The Best Time To Sell Your Home
Real estate brokers are often asked...."When is the BEST time to sell a home?"
According to multiple studies, most recently by Zillow, the magic window for selling your home is early May. See a portion of their article here republished here:
The Best Time to List? May is the New March
U.S. home sellers listing their home for sale in the first half of May earn almost 1 percent more on their final selling price and sell their home roughly 20 days faster than average.
The best two-week window to list a home for sale to both earn more and sell it faster used to be in mid-March, and has now moved into May in the face of tight inventory in many markets.
Legend speaks of a magic time in the housing market, an elusive roughly two-week window each year in which homes first listed for sale in that period both fetch higher sales prices and sell more quickly than at any other point in the year.
The exact dates of this magic window change from market-to-market, but the window's effects are so potent even homes in the most downtrodden markets tend to sell faster than the national average. Our first experience with this ever-shifting magic window was a few years ago, and we documented our findings for the world in the best-selling book Zillow Talk.
But the market has changed a lot in a couple years, and that elusive magic window has moved in many markets, for the most part from late winter/early spring to late spring/early summer.
March to May
In 2011 and 2012, just as the housing market was turning the corner from recession to recovery, the savviest sellers knew listing a home in mid-March was best. Listing just before the swarms of spring home shoppers descended on the housing market meant these sellers' homes were likely the newest homes on the market.
But in the years since, the housing market winds have changed. Inventory is incredibly tight in many markets, and renters are waiting longer to begin their home shopping journey in large part because rents themselves have only gotten more unaffordable. The magic window that used to appear in mid-March now typically shows up in the first half of May (table 1).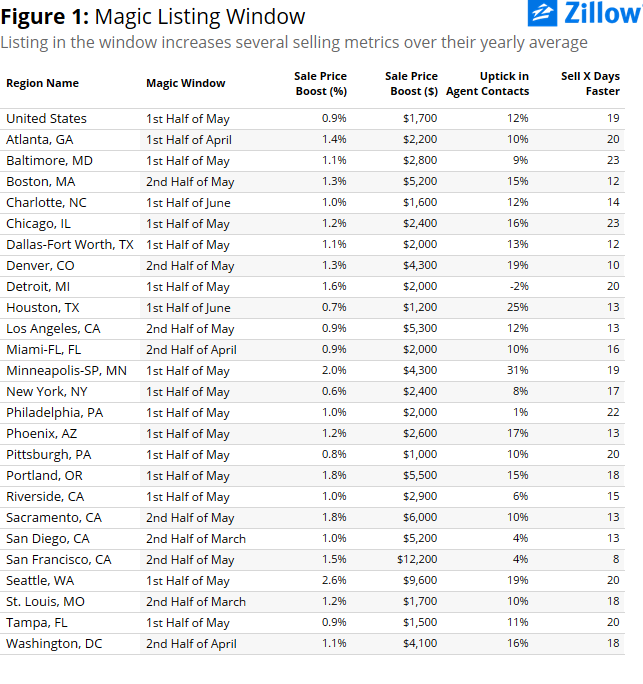 Listing during this time frame allows homeowners to both maximize their sale price, netting them almost 1 percent more on their final sale price (or roughly $1,800 for the typical U.S. home), and sell their home more quickly – almost 20 days faster than average.
Among markets where the effects of the magic window appear most potent, inclement weather seems to be a common thread. In Seattle and Portland, for example, perpetual sprautumn showers (any season that isn't summer in the Pacific Northwest is generally quite sprautumnal, trust us) tend keep home shoppers pent up until the start of May. And it seems potential home buyers in Minneapolis, Detroit, Boston and Denver likely don't appreciate shoveling their way to an open house in the dead of winter.
The tool below (figure 2) lets users discover the precise timing and effects of this fleeting magic window in their market. It details the magnitude of the boost or reduction in selling price and the average time homes spend on the market depending on the window in which a seller chooses to list their home for sale.
Originally Published on Zillow by Jamie Anderson who is a Data Scientist at Zillow